It's a common myth that bike saddles are inherently uncomfortable, which can put people off riding altogether. A suitable saddle shouldn't cause any discomfort at all. If you're relatively new to cycling, it's important to stress that it can take some time for your body to get used to being in the saddle for sustained periods of time. A good fit is also vital to feeling comfortable on the saddle, and our included fitting service will take care of this.
It is all about your sit bones
With so many shapes, styles and price points available, the sheer volume of saddle options available can be overwhelming. When you sit on a chair, the sit bones at the lowest point in the pelvis are the bones that support the body's weight, and these are crucial for saddle fit. Sit bone widths vary between individuals, and therefore saddle manufacturers often produce models in a range of widths. Statistically speaking, women have wider hips than men, so they on average also have wider sit bones and require wider saddles.
Bike style affects your saddle comfort
The way you sit on a performance road bike compared to a hybrid and a gravel bike changes the rotation of your hips and hip angle, which will affect how the pelvis interacts with the saddle. More aerodynamic positions, such as those found in road racing and performance riding, are suited to flatter, longer saddles. Curved-profile saddles are often favoured by riders in a more upright endurance position, more commonly used by gravel riders and commuters.
What makes a saddle better?
The Shell
The shell or chassis of the saddle is the hard base that forms its basic shape and determines how much it will flex. More budget-friendly saddles will be made of plastic, or a fibre-reinforced polymer, whereas more expensive saddles will have a carbon-fibre shell.
​
The Rails
Steel alloy rails will be standard on cheaper saddles, while mid-range and top-tier saddles tend to opt for manganese alloys, titanium or carbon-fibre rails.
These rails are one of the main determinants of a saddle's price, and can also offer significant weight savings as you move up through the range.
The Upper
​
The upper or cover is the top layer of the saddle and is the part you actually sit on. Saddle covers are made from a variety of materials. Expensive materials such as real leather and rubber will increase the price, cheaper saddles use synthetic material that is not as durable or flexible. Premium saddles will also use synthetic material, but is much less lightly to crack, slight or wear.
Look out for any prominent seams and rough patches when choosing a saddle because these can cause discomfort depending on their location, or even wear holes in your shorts.

The Padding
While thick, soft padding may seem like the solution for ultimate saddle comfort, over the course of a ride this compresses, deforming around your anatomy, and can end up putting pressure on the soft tissue areas.
Many saddle manufacturers use pressure mapping to determine where to place padding, which can range from simple foam to gel, dual density foams and 3D printed polymer.
The Cut Out
​
Not all saddles have cut outs, some have a channel. They are designed to relieve any soft tissue pressure and to improve blood flow. If you're experiencing numbness while riding, a saddle with a cut-out or central channel is something to look into.
If you're not experiencing numbness, can you still use a saddle with a cut-out? The answer is yes — many people do. It really comes down to what's most comfortable for you. Be warned, though, for some people a cut-out can create pressure points close to the edge of the channel.
Saddle Position
It is vital you have the correct height before making changes to the position and angle.
Moving your saddle forwards or backwards on the rails (within the safety limits shown on the rails) will affect your reach to the bars and how you are positioned over the bottom bracket and pedals.
Angling the nose up or down will also affect your hip rotation. You can change the position of your saddle but it is likely to be a process of trial and error.
Condor provides a bike fit when you purchase a bike to determine your saddle position on the rails, angle and what type of saddle is best for you.
Your saddle is designed to support your sit bones, and as we're all different, many saddles come in different shapes and widths.
Once you determine your sit bone width and flexibility, you can work out which saddle may be suitable for you. At Condor we have a sit bone measuring device, with a memory foam upper and printed scale to measure width.
You can create a basic version at home by putting a piece of foil on carpeted stairs. Sit down on the stair with your back straight and knees slightly above your waist. Measure between the two indentations and add 25mm, this is your saddle width.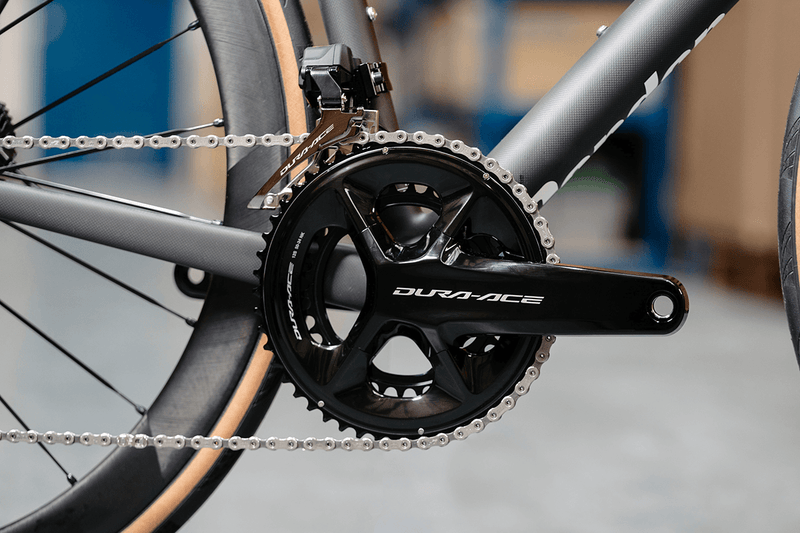 The complete guide to bicycle groupsets from the top brands and how to choose the right one for you.
Read More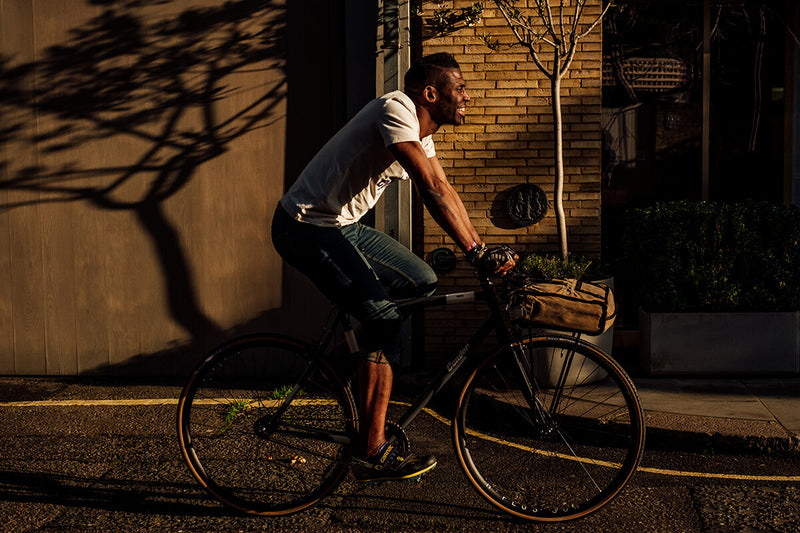 There are lots of different styles of bike and picking one that suits your needs can feel daunting. We explain the most popular styles of bike plus the advantages and disadvantages of frame material.
Read More